Condo Kitchen Renovation Company in Toronto
We provide Condo unit renovations to Toronto homeowners, Remodel condominium kitchens within budget and timeline.
Condo Kitchen Remodelling
Even though there are limitations to perform a renovation in condo units, still there are a lot that you can achieve. Condo remodelling can improve the quality of the living space as well as increasing the value of your property.
Some of our kitchen renovation services include:
Demolition & Garbage Removal: Disconnect appliances and remove all existing cabinetry.
Design & Coordinate to order Cabintary: Our experienced interior expertise will assist you to design and prepare 2D and 3D designs for your new cabinetry.
Countertop: Design, fabrication and installation of quartz countertops.
Plumbing and Electrical: Installation of all faucets, sinks and electrical outlets as per design documentation.
Appliances: Order, coordinate delivery and install selected appliances by the homeowners.
Renovation Permits
Maserat Developments is insured up to $2 Million which will require performing renovation in condominium buildings, We will take care of all paper works with the condo management to obtain the necessary permits.
To do a renovation in the condominium buildings a permit is required from the board of management. It is critical to review important steps before starting the renovation process to prevent legal complications.
As the owner you can change the interior decoration, however since it can impact the other unit owners; the condo corporation requires you to hire professional contractors as well getting approval from them for the changes applied to the unit.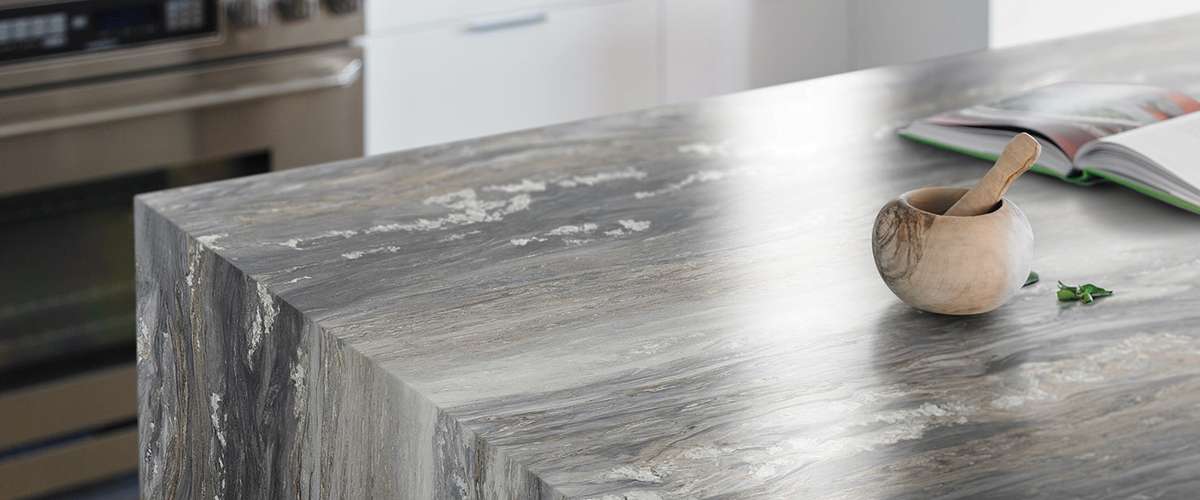 Type of countertops
Indulge in a World of Countertop Choices for Your Kitchen Renovation. Embark on an exciting journey of selecting the perfect countertop for your new kitchen renovation. Our extensive range of options will leave you spoiled for choice, each with its own unique advantages and considerations. Allow us to guide you through the possibilities:
Marble Countertops:
Exude timeless elegance with luxurious marble, a sophisticated choice that adds a touch of opulence to any kitchen. While it boasts unmatched beauty, it's important to note its sensitivity to stains and requires regular maintenance to preserve its pristine appearance.
Laminate Countertops:
Explore the realm of versatility with laminate countertops, available in an array of designs and patterns to match your desired aesthetic. This budget-friendly option is durable and easy to clean, making it an ideal choice for those seeking practicality without compromising style.
Granite Countertops:
Unleash the natural beauty of granite, a durable and resilient material known for its stunning visual appeal. With its heat-resistant properties and unique patterns, granite countertops bring a touch of sophistication and rugged elegance to your kitchen.
Quartz Countertops:
Experience the epitome of durability and beauty with heat-resistant quartz countertops. Engineered to withstand the demands of everyday life, this low-maintenance option offers a vast range of colours and patterns to complement your kitchen design effortlessly.
Our team of experts is ready to help you navigate the intricacies of each countertop choice, ensuring that your kitchen renovation achieves the perfect blend of functionality and aesthetics. Elevate your culinary space with a countertop that reflects your personal style and enhances your daily cooking experience.
Recent condo Kitchen Renovation Projects
To simplify the process of Kitchen Renovation for you as the homeowner, we do provide design, material selection, production and installation all under our senior project manager's supervision. We will cover the following through the process:
Demolish & Garbage Removal, Material selection, Design Consultation, Cabinet and Countertop installation, Electrical and Plumbing finishings.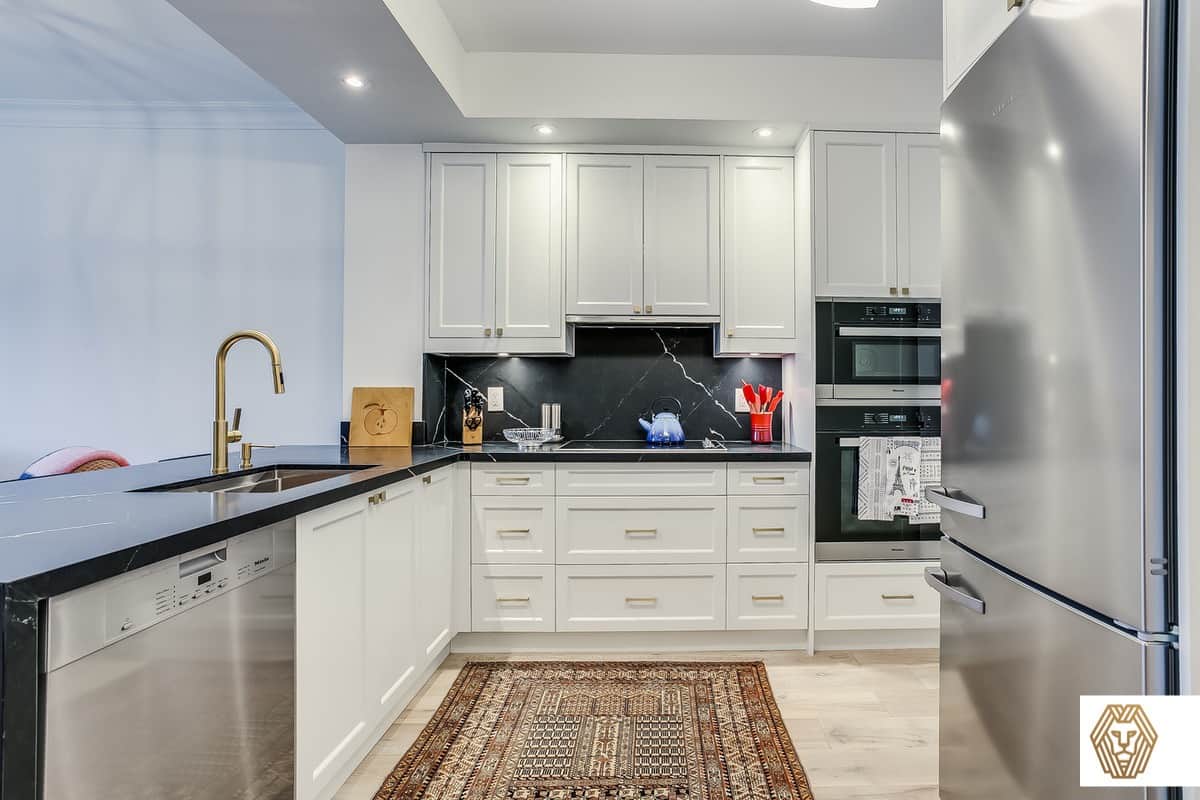 Condo Kitchen Renovations
If you want to improve your condo unit's Kitchen whether you it is for increase of your home value or need a new look, we can help you to plan and execute the project from start to the end. 
As the centre point of condo life, we realize no home benefits more than a condo from a contemporary kitchen renovation. We are dedicated to real functional and design improvements available during a condominium renovation. 
As the dream of traditional homeownership becomes further out of reach for more and more people, there's a real value in renovating your Condo and Kitchen space to meet your changing needs. 
Why move, when we can help you improve?  And besides, do you really want to give up all that Condo living has to offer?
The Right Construction Partner for You!
We have what it takes to make your vision a reality with our experience and expertise in the field of home design, development, and construction.
Licensed & Insured
With comprehensive insurance coverage, including $2 million in general liability and other policies like auto, professional liability, builders' risk and WSIB included for your peace of mind – our projects are designed to deliver a worry-free construction experience.
Dedicated Project Manager
Our dedicated project manager will be with you from beginning to end, ready to provide guidance and ensure your goals are met. Rest easy knowing we have the experience necessary for a successful outcome of your project!
Professional Trades
Our team is highly skilled and fully certified, ensuring quality results on each job. Our crew members are passionate professionals who collaborate seamlessly for the best possible outcomes and always treat customers with respect.
On-Time & Budget
Missed deadlines won't be an issue with your project. We are committed to delivering a successful outcome on time and within your budget - without any unwelcome surprises!
Transparent Contract
At the heart of our construction projects lies an emphasis on transparency and clarity, ensuring that all agreements are effortless to understand. We strive for top-notch results in each project, but just as importantly we value forging lasting relationships with clients.
Increase Value & ROI
Committed to customer satisfaction, our Design and Project Management team are experts in adding value to your property. Keeping up with market trends and changes, we ensure a superior experience every time.
Let's make an impact, together.
Our Home Renovation Company is devoted to bringing your dream home into reality, while also making sure our community's children and families are taken care of. We take great pride in supporting the SickKids Hospital with a portion of each profit - because every child deserves the chance at happiness and safety they deserve.
Frequently asked questions about condo renovations
If you have any specific questions, feel free to request quote or give us a call!
What kind of restrictions do you generally encounter when undertaking a condo reno?
You must abide by the condo rules, a specific sub floor is required for sound proofing and most renovations must be approved by the condo board prior to moving forward. Most walls can't be removed as they are structural.
What things would you caution condo owners on when they're planning a reno?
Permits and Condo approval take time and cost money. You must abide by the condo rules for scheduled work times as well and the use of the elevator. If you require a bin for disposal, most condo's don't have the place to leave a big bin, so we have to order one, dispose in 30 min and have it taken away.
Can I take down walls in my condo, or do any structural changes?
Most walls are concrete and are structural and may not be removed. Some may… it all depends.
What kind of flooring is best to lay in a condo?
Any flooring is fine for a condo, as long as a special soundproof underlay is used. Each building has its own specific requirements.
Can I alter the electrics or plumbing in any way (e.g., add overhead lights, change the layout of the bathroom etc.)
Yes, with drawings and approved by the board.
Suggestions for best practices when undertaking a condo renovation?
Yes, with drawings and approved by the board.