Condo Bathroom Renovation Contractor in Toronto
We provide Condo Bathroom renovations to Toronto homeowners. To perform renovation in condo buildings, you need to hire a professional company with certifications and insurance.
Discover our Condo Bathroom Renovation Services
Discover the finest Condo Bathroom renovation services in Toronto with Maserat Developments. Our unwavering commitment to exceptional customer service, budget-friendly pricing, timely delivery, and maximum return on investment guarantees the success of every project.
Book Your Expert Consultation Today.
Let us turn your dream into a reality! Request a professional estimate from our Senior Project Manager today. Experience unparalleled quality and hassle-free services for your construction project with Maserat Developments.
Toronto's premier experts in custom build and design solutions, we transform living spaces with breathtaking renovations and seamless additions.
You're not alone if you're considering renovating one or more bathrooms in your condo. Refreshing the bathrooms is a fantastic method to update your home without the hassles of selling and moving to a different condo. Plus, it can increase your condo's value significantly. In Toronto, Maserat is a premium custom build and renovation firm. We've renovated several bathrooms in condos and are ready to take on more. Keep reading to learn more about remodeling condo bathrooms.
We offer a wide range of bathroom renovation services to our Toronto-based clients. Our bathroom renovation covers from powder room to large full ensuite spaces. Step by step we'll work with you to understand the details of what you have in mind, including the layout, colours, textures, features, lighting and more. We provide the skill and craftsmanship you need to create the bathroom you've been dreaming about. Our renovation packages include Material, labour, installation and garbage removal.
Maserat has extensive experience in condo Bathroom remodelling in Toronto. We've worked on many projects, from small bathroom updates to complete makeovers. Our team of experienced professionals will work with you to ensure your project is completed on time and within budget.
If you're thinking about condo bathroom remodelling, contact Maserat today. We'll be happy to discuss your requirements and provide you with a free, no-obligation quote.
To keep up with today's safety and standard regulation, we will bring all our projects to the code. Our certified and licensed Electrician will go over the project's details and plans and will come up with the required task. Through the process of wiring, our electrician will make sure to replace all outdated hardware with high-quality material.
ESA inspection will perform through and at the end of each project to make sure we have met all codes.
Our Licensed plumbing parters will inspect the project and install the plumbing work in accordance with the city's building code. 
Once your bathroom renovation project has completed, we will assist you with bathroom accessories installation such as Towel rails & towel holders, Sink accessories, Bathroom shelves, Toilet roll holders & stands. 
We like all of our clients to be treated fairly, hence we prepare all of our contracts without any hidden fees or grey corners. All of our estimates includes demolition, plumbing, electrical, installation and garbage removal. Bathroom renovation's cost varies base on the size, style and material selection. Bathroom renovation cost in toronto can fall between $15k to $50k depending on the size and style, from powdery room to large master bedroom.
Feel free to contact us today and our senior project manager will go over the styles and features to delivery within budget.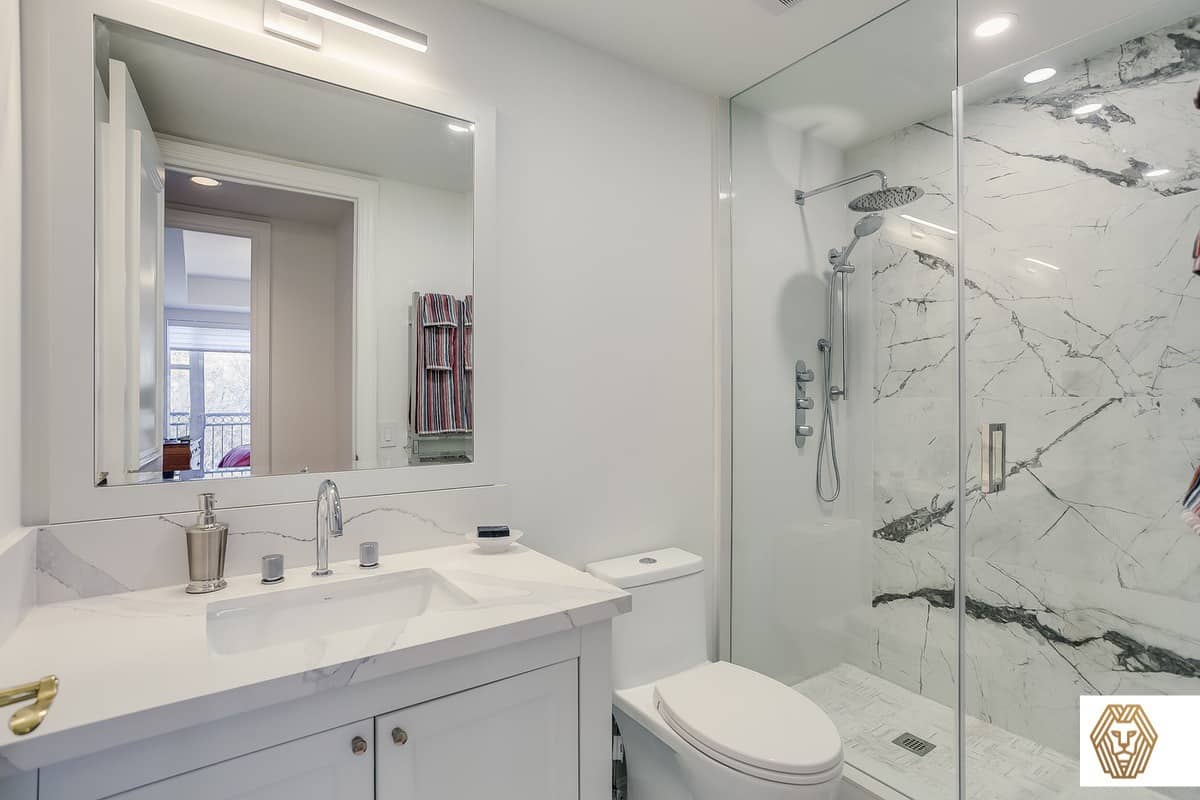 Why Remodel Your Condo's Bathroom?
Condo Bathroom remodeling is a great way to modernize your condo and make it feel like new. It can also be a selling point if you plan to sell your condo.
A well-designed, modern bathroom will impress potential buyers and help you get top dollar for your condo.
If you're not planning on selling, remodeling your condo's bathroom is still a great idea. It will allow you to enjoy a more stylish and efficient bathroom that meets your needs.
Maserat has extensive experience in condo Bathroom remodeling in Toronto. We can help you take an ordinary bathroom and turn it into something extraordinary.
Recent Condo Renovation Projects in Condos
We offer design, material selection, production, and installation for all of our Bathroom makeover projects under the direction of our senior project manager. Here are some examples of condo bathrooms Maserat recently remodeled in Ontario:
The Right Construction Partner for You!

Licensed & Insured
We are fully insured for our projects to provide a hassle-free construction experiment. With all required insurance coverage, including $2 million general liability, auto, professional liability, builders' risk, and WSIB, we're fully protected for your peace of mind.

Dedicated Project Manager
An assigned experienced project manager will be at your disposal at every step of the proejct's timeline. They are ready to answer your questions, help with decisions, and coordinate all aspect of your project to full satisfaction.

Professional Trades
Our team are specialized in what they do and fully licensed to complete the tasks within building code. All of our crew member's are knowledgeable, courteous, responsive, and work well together as a team.

On-Time & Budget
There is a penalty in place if we miss our deadlines to finalize the project on time. We will make sure the project will deliver within the allocated budget without any hidden fees.

Transparent Contract
To create the best result every detail is in construction is crucial. We have made our agreements super transparent and clear to understand just how we like it to be treated as clients. We like to keep you as our friend after each project.

Increase Value & ROI
No matter the size of the project, We are committed to add value to your property upon of completion. Our Design and Project management team are following the market trends and changes to enhance every customer's experience.
What to Consider Before Remodeling Your Condo's Bathroom
Before you begin the process of condo bathroom remodeling, there are several factors you need to consider. These include:
The project's scope: What exactly do you want to achieve with your condo bathroom remodel? Are you simply looking to update the fixtures and fittings, or do you want a complete makeover?
Your budget: How much are you willing to spend on your condo bathroom remodel? Keep in mind that even small changes can be expensive, so it's important to clearly understand your budget from the outset.
The time frame: When do you need the work to be completed? If you're planning on selling your condo, you'll need to factor in the time required for potential buyers to view the property.
The building regulations: Does your condo building have any restrictions on what work can be done? For example, some buildings may not allow changes to be made to the plumbing or electrical systems.
The noise level: Condo bathrooms are often located close to other units, so it's important to consider the noise level during construction.
Maserat can help you navigate the complexities of condo bathroom remodeling. We have a team of experienced professionals who will work with you to ensure your project is completed on time and within budget.
How to Get Started With Condo Bathroom Remodeling
Once you decide to go ahead with condo bathroom remodeling, the next step is finding a reputable contractor. Maserat has a proven track record in delivering high-quality condo renovations. We'll work with you to develop a detailed plan for your condo bathroom remodel. This will include everything from the design and layout to the materials and finishes.
Once we have a clear understanding of your vision, we'll provide you with a detailed quote. This will give you a good idea of the costs involved so that you can make an informed decision about whether to proceed with the project. If you decide to go ahead, we'll get started on the work as soon as possible. We understand that condo bathroom remodeling can be disruptive, so we'll do everything we can to minimize the inconvenience to you and your neighbors.
We'll also keep you updated throughout the process so that you know exactly what's happening at every stage.
Let's make an impact, together.
While we build your dream home, we focus our charity efforts on helping children and their families in our community to get the support they need. We believe every child deserves to be happy and safe. We are proud in participating in our community's well-being by donating a portion of our profit to the SickKids Hospital.